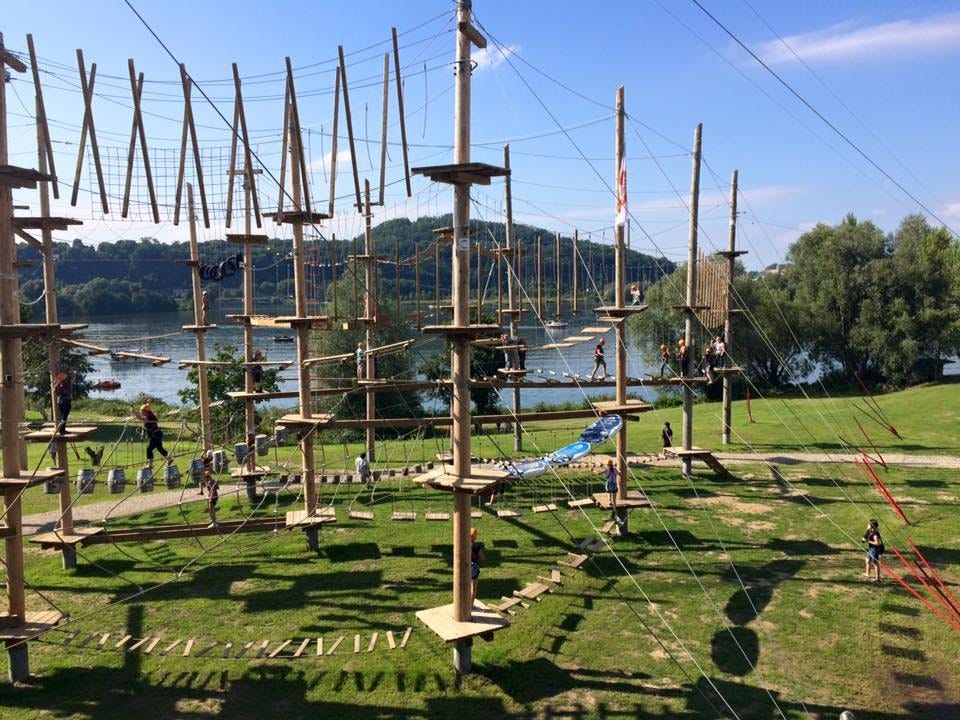 Sports, games, water fun
and adventure
Eijsden offers exceptionally good facilities for such a small village for swimming, water sports, fitness, games, climbing, adventure and more. Inside and outside. For all ages.
Within a 10-minute walk from our accommodations you will find the public swimming pool De Treffer, with both a large outdoor pool with sunbathing area and an indoor pool. At 5 minutes or half an hour's walk you will find a real water and play and sports paradise with something for every age: Funvalley in East Maerlandt (Municipality of Eijsden), with its day beach, water sports, climbing and adventure park and its indoor playground Ballorig. In addition, there are many other places in the Eijsdense Maas and its gravel holes for swimming, fishing and water sports. There are also fantastic running routes and fitness centers if you can't go on holiday without them. View all sports, games, water fun and adventure activities in the vicinity of our accommodations below. Click on the photos to go to the respective webpage of the provider.
Swimming or running in Eijsder Beemden
In the Eijsder Beemden nature reserve there are plenty of beautiful places where you can enjoy healthy swimming in the great outdoors. You just have to walk into Beemden towards Maastricht and choose one of the headlands, or swim to the island in the middle. These are popularly known as the Pietersplassen or the Grindgat.
Respect nature and the peace and quiet there, so don't leave any mess and make no noise. However, some parts of the naturist associations so you have to pay attention to that.
You can also do your "daily" running round here to run off the holiday gilts again, but in a beautiful setting. That runs so well!
Any questions? Feel free to ask here!
Do you have questions or do you want to know which accommodations we offer and whether they are available? Let us know using the form below. We usually respond the same day or the day after.