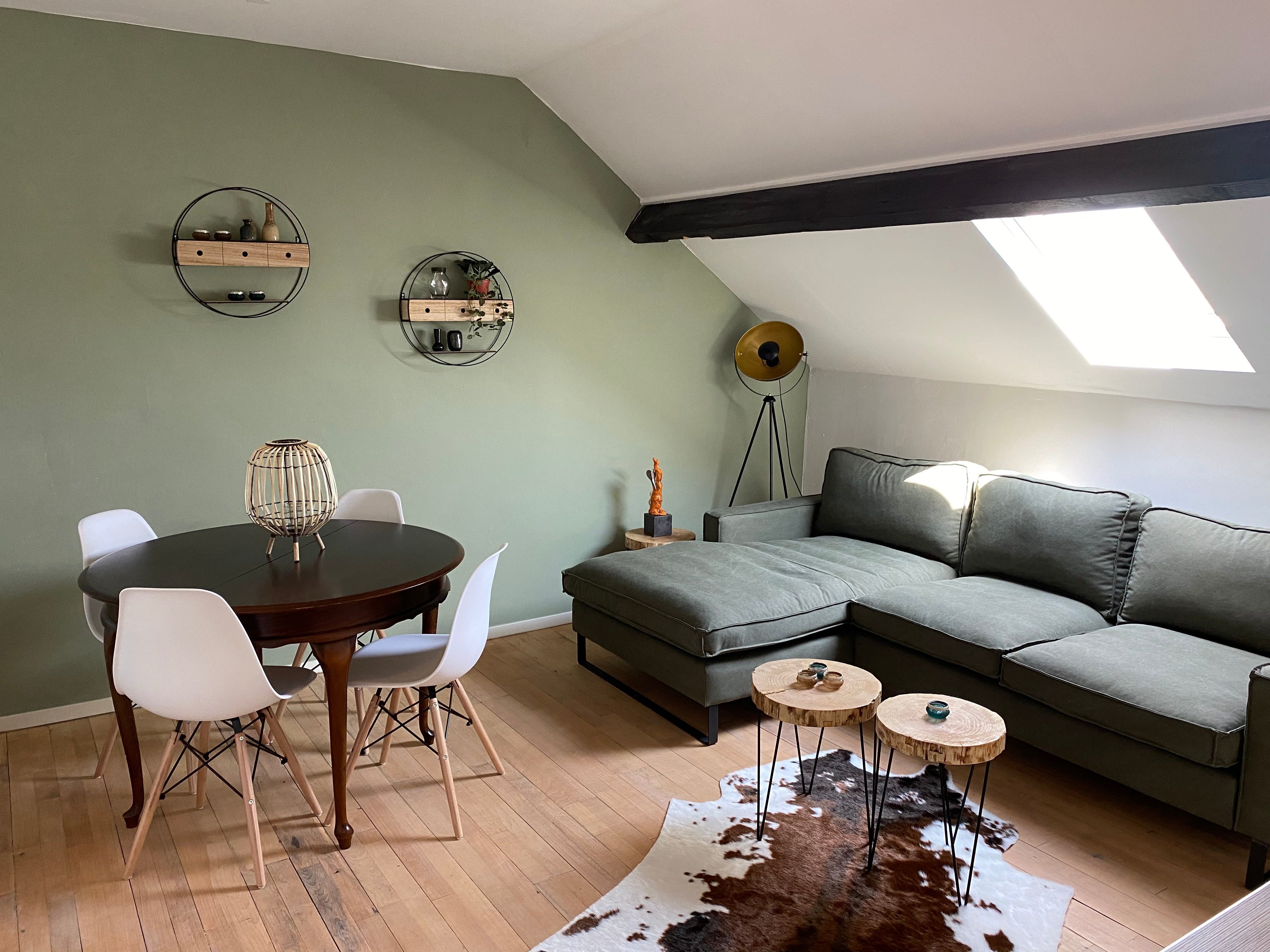 Atmospheric cozy apartment for 4 persons with airco
With a cozy living room, open kitchen incl. dishwasher, 2 bedrooms, 1 bathroom, smart TV, strong WiFi, air conditioning and free parking.
This fully renovated authentic apartment from 1900 is located in picturesque Eijsden, 10 minutes from Maastricht: The ideal base for all the beauty, entertainment and activity that South Limburg and the Euregion have to offer. You can reach everything by train or car within 10 minutes to half an hour.
In Eijsden itself, literally everything is within walking distance: from restaurants, cafes, picturesque streets, terraces, castles, beautiful nature, water fun, fun valley, to a complete shopping center.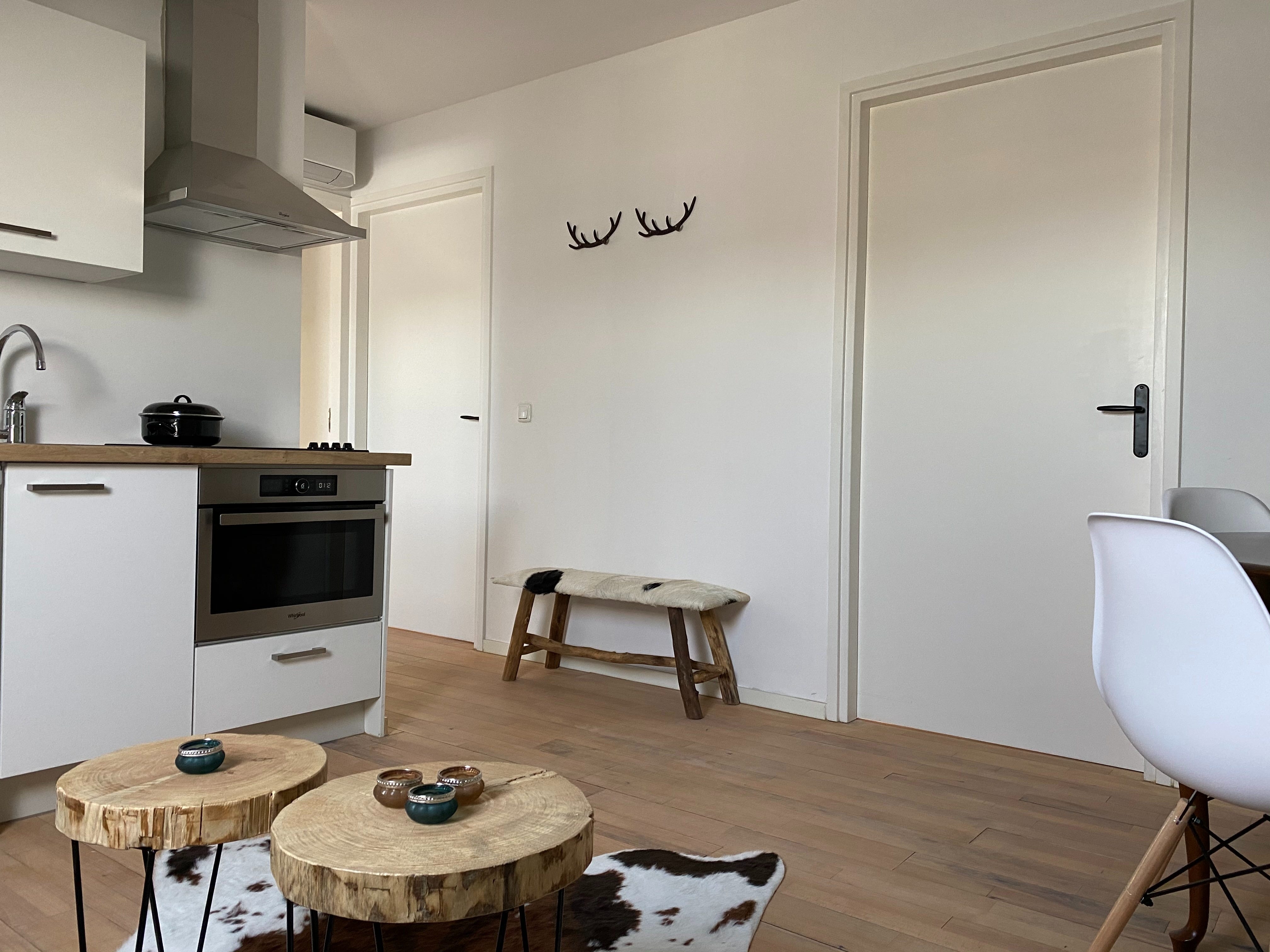 From € 95,- per night
Excluding cleaning fee and taxes
Features and location
Apartment (4p) of 44 m2
Located on the second floor
In an authentic building from 1900
Cozy and surprisingly spacious
Living room with corner sofa and dining table
Open kitchen with e.g. dishwasher
2 bedrooms, moose 2 persons
1 bathroom with walk-in shower
Easily accessible by car and train
Ideal base for the region
Many amenities within walking distance
Facilities and amenities
Air conditioning and heating
Dishwasher
4-burner ceramic hob
Fridge with freezer
Oven-microwave-grill combi
Full kitchen inventory
Bed and bath linen
Blackout curtains
WiFi and smart TV with chromecast
Free parking in front of the door
Self-checkin with code
Prices, booking and cancellation
Sunday-Thursday: € 95 per night
Friday-Saturday: 15% weekend markup
Other discounts/markups: seasonal
Cleaning costs: € 30
Bed and bath linen: € 10
VAT: 9% on the above prices
Tourist tax: € 1.70 per night p.p.
Checkin: from 3 pm
Checkout: until 11:00 am
Payment: online, 50% down payment
Cancellation policy: click here
Voorgevel van de residentie
Entree van het appartement
Living met de deuren naar de slaapkamers
Inkijk door de deur van slaapkamer 2 (2p)
Centrale hal en trappenhuis
Ambiance
The property dates from around 1900 and has retained many authentic elements, while still enjoying all the contemporary luxury. That gives atmosphere, cosiness and comfort.
Layout
The apartment is almost 44 m2 and is located on the second floor of this building. This cozy and comfortable apartment is suitable for 4 persons, has a spacious living room with kitchen, 2 bedrooms and 1 bathroom. The walls at the rear and front are partly slanted, since this floor is located directly under the roof. However, the air conditioning system ensures that it remains very pleasant here, even with warm temperatures outside.
Living with open kitchen
Cozy living room (20.2 m2) with a cozy corner sofa, dining table for 4 people and smart TV in the sitting area. In the living room there is a kitchen with a 4-burner ceramic hob with extractor hood, sink, fridge with freezer compartment, dishwasher, oven-microwave-grill combination, sink and sufficient cupboard space above and below.
TV and WiFi
The TV is a smart TV equipped with Google Chrome cast, which means that you can watch what you want with apps on your own smart phone using your own smart phone as a remote control. For example Netflix, Disney, Youtube and of course the streaming service of your own TV provider at home, so you can watch all the channels you have at home. After all, most TV providers nowadays have an app for watching TV for free via streaming, which you can then download on your smartphone. We have a strong Wifi.
Bedroom 1 (2p)
Very nice 2-person bedroom (8.4 m2) with a Queensize box spring bed (160x200) with pocket spring mattress and extra comfort topper of 8 cm, which guarantees the best sleeping comfort. There is also a clothes rack in this room. This bedroom is located at the rear of the property, has 1 window with blackout blind and is accessible from the living room.
Bedroom 2 (2p)
Atmospheric 2-person bedroom (8.3 m2) with a Queen-size box spring bed (160x200) with pocket spring mattress and extra comfort topper of 8 cm, which guarantees the best sleeping comfort. There is also a clothes rack in this room. This bedroom is located at the rear of the property, has 1 window with blackout blind and is accessible from the living room.
Bathroom
Newly constructed beautiful bathroom with walk-in shower, toilet and sink. The bathroom is accessible from the hall when you enter and is located at the front of the building.
Heating and airconditioning
Each radiator can be individually controlled with a thermostatic valve. As a result, you only heat the rooms that you find necessary to heat and we do not consume unnecessary energy. There is also air conditioning that can be operated with a remote control.
Smartlocks and checkin
We work with a self checkin system, which is the most flexible for both guests and us. You will receive the lock code by text and e-mail shortly before your arrival.
House rules
This is not a party location, it is a stylish authentic building from 1900 containing 5 different holiday apartments that have been furnished with care and an eye for detail, of which this accommodation is 1.
An authentic building creates a lot of atmosphere, but can also be noisy when guests cause noise pollution. Therefore, all guests are expected to be quiet after 10:00 PM and silent after 12 Midnight. This is all the more important when you sit together with the windows open.
Parties, smoking and pets are prohibited. Fines or extra costs may be charged for violating these or other house rules.
Surroundings and local transport
This accommodation is the ideal base for South Limburg and the Euregion. Everything you would want to see or do in the area can be reached by train or car within 10 minutes to half an hour. In Eijsden itself, everything you want on a holiday or trip can be found within walking distance. Get inspired with the photos below, or read more about the area here.
Genieten op het mooiste terras van Nederland, Aon 't Bat in Eijsden, bekeken vanaf België (overkant Maas)
Ontdek de Duivelsgrot in de St. Pietersberg in Maastricht
Bezoek de prachtige abdij van Valdieu en geniet van het heerlijke bier van de monniken
Wandel vanaf de St Pietersberg naar het Belgische Kanne en je komt van alles tegen ...
Kasteeldomein Alden Biezen (25 km)
Nationaal Park Hoge Kempen (30 km)
Karakteristiek Valkenburg
Industrieel erfgoed Maastricht stijlvol omgebouwd in horeca, cultuur en verblijfsgelegenheden
Vlakbij maar toch in het buitenland, de Voerstreek
Waan je in de prehistorie in de ENCI groeve in Maastricht
In de grotten van St Pietersberg in Maastricht
Het trappenfeest in het vlakbij gelegen Luik is echt bijzonder
Genieten op het Onze Lieve Vrouweplein in Maastricht
Lekker uitrusten bij Buitengoed Slavante op de St Pietersberg na een stevige wandeling
Speciale bieren proeverij in Luik
L' escaliers in Luik, een "must-walk"
Visé, op een steenworp van Eijsden maar Franstalig
Waan je in Frankrijk in de Koestraat, een van de gezelligste straatjes van Maastricht
Prachtige straatjes langs de oude stadswal van Maastricht
De Helpoort, oude stadswal en het Pesthuis van Maastricht
Pater Vink torentje in de stadswal van Maastricht
Stadspark grenzend aan de stadswal van Maastricht
Buitenbad van Zwembad de Treffer in Eijsden, met grote ligweide en 3 baden
Binnenbad van Zwembad de Treffer in Eijsden
Vakwerkboerderijtjes in Noorbeek, vlakbij Eijsden
Fort St Pieter op de St Pietersberg in Maastricht
Jachthaven Het Bassin in Maastricht, waar monumentale panden met industrieel erfgoed zijn omgebouwd tot horeca en cultuurgelegenheden
's Gravenvoeren, Franstalig, vlakbij Eijsden
Het 3 landenpunt Vaals met labyrint en mooie omgeving (30 km)
De Kazematten (ondergrondse schuilkelders) van Maastricht
In de grotten van Maastricht is een Nachtwacht nagemaakt
Pittoreske straatjes in Eijsden
Wandelen door natuurreservaat de Eijsder Beemden
Een topdag voor de kids? Funvalley in Oost-Maerland (Eijsden). Indoor en outdoor!
Langs de Maas in Eijsden kun je prachtige wandelingen maken
Bezoek het indrukwekkende oorlogskerkhof in Margraten (Gemeente Eijsden-Margraten)
Een must do: een dagje binnenstad Maastricht, blijft geweldig!
Het kleinste en meest Zuidelijke stationnetje van Nederland, Station Eijsden, aan de overkant
Dit beeldt de "Cramignon" dans uit, die tijdens de Broonk van Eijsden door de straten slingert
Drukte tijdens de Broonk, een jaarlijks 3-daags zomers feest in Eijsden
Wandelen langs de Maas in Eijsden met aan de overkant Franstalig België
Beschermd natuurgebied de Eijsder Beemden, je kunt er zo in vanaf het Bat in Eijsden
De voer kabbelt door het Eijsdense landschap
De voer stroomt langs Kasteel Eijsden
Kasteel Eijsden vanuit de lucht
Kasteel Eijsden tuin (openbaar)
Het Bat in Eijsden met rechts in de verte de St. Pietersberg van Maastricht
Wilde Konincks paarden in de Eijsder Beemden (openbaar)
Slenteren door de Diepstraat in Eijsden van boven naar de Maas beneden
Het winkelcentrum in Eijsden met alles wat je nodig hebt tijdens je verblijf... en meer
Grieks eten of aflhalen/bezorgen, het kan vlakbij hier bij Hestia
Terrassen bovenaan de Diepstraat
Het mooiste terras van Nederland, bij Oan t Bat aan de Maas in Eijsden
Location data
Adress: Stationsplein 6, Eijsden (NL)
Unit number: No. 6C
Availability and booking: Click here
Questions: Feel free to ask using this form:
Google Maps inhoud kan niet getoond worden met je huidige cookie-instellingen. Selecteer "Toestemmen & tonen" om de inhoud te zien en de Google Maps cookie-instellingen te accepteren. Meer info kun je lezen in onze [Privacyverklaring](/privacyverklaring/. Je kunt je altijd weer afmelden via je [cookie-instellingen] /cookie-instellingen/.
Toestemmen & tonen