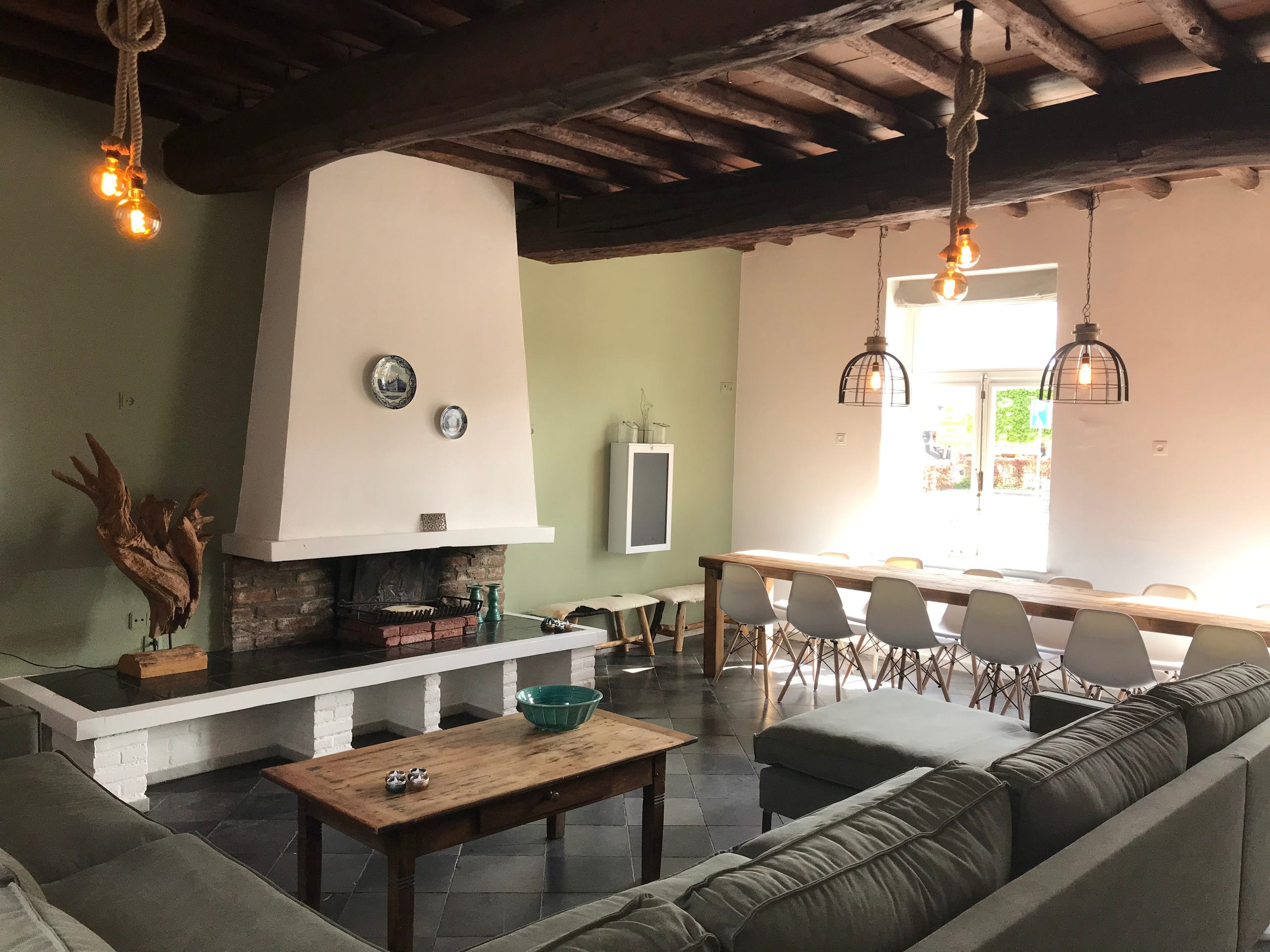 Atmospheric accommodations in good locations
Vacation South-Limburg, citytrip Maastricht?
Authentic Stays offers attractive accommodations for groups of 2 to 16 persons. Perfectly located to fully enjoy all the beautiful, historical, entertaining and active things that Maastricht, South Limburg and the Belgian and German border regions have to offer.
Atmospheric luxury accommodations
Our authentic accommodations exude the atmosphere of earlier times but have the comfort and facilities of today, such as strong WiFi, air conditioning, dishwashers and nice large lounge sofas.
For every group size
We have accommodation options for groups of 2-6 persons, 7-10 persons and 11-16 persons. View them all below and just click directly on the accommodation of you choice for more detailed information and online booking.
Easily accessible and free parking
The accommodations are easily accessible by car and train and have free parking spaces in front of the door or nearby.
Everything you want within walking distance
Around the accommodations, literally everything can be found within walking distance: from restaurants, cafes, picturesque streets, terraces, castles, beautiful nature, the most beautiful walking and cycling routes, water fun, fun valley, to a complete shopping center.
Lots to see and do in the area
There's lots to see and do in the area, something for everyone: from city to nature, from Burgundian to active, from art to culture, from entertainment to tranquility!
Ideal base
The accommodations of Authentic Stays are located in locations that form the ideal base for this. Within 10 minutes to half to an hour you can reach everything by train or car.
Luxury authentic maisonnette for 6 persons near Maastricht
109 m2 plus 14 m2 outside terrace
Spacious living room with fireplace and TV
Spacious luxury kitchen incl. dishwasher
3 bedrooms, 2 bathrooms
Air conditioning
Free WiFi, TV with chromecast
Free parking
Price excl. cleaning fee and taxes:
From € 145,- per night
Authentic ground floor apartment for 6 persons near Maastricht
60 m2 plus 11 m2 outside terrace
Cozy living room with TV
Beautiful kitchen with dishwasher
2 bedrooms, 2 bathrooms
Air conditioning
Free WiFi, TV with chromecast
Free parking
Price excl. cleaning fee and taxes:
From € 125,- per night
Authentic atmospheric apartment for 6 persons near Maastricht
52 m2 located on the 1st floor
Cozy living room with TV
Open kitchen incl. dishwasher
3 bedrooms, 2 bathrooms
Air conditioning
Free WiFi, TV with chromecast
Free parking
Price excl. cleaning fee and taxes:
From € 125,- per night
Atmospheric and spacious 5-person apartment near Maastricht
52 m2 located on the 2nd floor
Very cozy living room with TV
Open kitchen incl. dishwasher
2 bedrooms, 1 bathroom
Air conditioning
Free WiFi, TV with chromecast
Free parking
Price excl. cleaning fee and taxes:
From € 105,- per night
Idyllic little house at the river for 4-5 persons near Maastricht
50 m2 with 15 m2 terrace at the river
Cozy living room with TV
Kitchenette, 1 bathroom
1 bedroom plus 1 sleeping loft
Private indoor pool optional
Free WIFI
Free parking (2 min walk)
Price excl. cleaning fee and taxes:
From € 100,- per night
Atmospheric and cozy apartment for 4 persons near Maastricht
43 m2 located on the 2nd floor
Very cozy living room with TV
Open kitchen incl. Dishwasher
2 bedrooms, 1 bathroom
Air conditioning
Free WiFi, TV with chromecast
Free parking
Price excl. cleaning fee and taxes:
From € 95,- per night
Atmospheric group accommodation for 7 persons near Maastricht
98 m2 located on the 2nd floor
Cozy living room and extra sitting room
2 kitchens with incl. dishwashers
4 bedrooms, 2 bathrooms
Air conditioning
Free WiFi, TV with chromecast
Free parking
Price excl. cleaning fee and taxes:
From € 220,- per night
Authentic group accommodation for 10 persons near Maastricht
167 m2 plus 23 m2 outside terrace
Spacious living room with fireplace and TV
Extra sitting room
2 large kitchens incl. dishwashers
5 bedrooms, 4 bathrooms
Air conditioning
Free WiFi, TV with chromecast
Free parking
Price excl. cleaning fee and taxes:
From € 300,- per night
Authentic luxurous group accommodation for 14 persons near Maastricht
222 m2 plus 24 m2 outside terrace
Spacious living room with fireplace and TV
2 additional sitting rooms with TV
3 kitchens incl. dishwashers
8 bedrooms, 6 bathrooms
Air conditioning
Free WiFi, TV with chromecast
Free parking
Price excl. cleaning fee and taxes:
From € 440,- per night
Exclusive authentic mansion for 16 persons near Maastricht
320 m2 plus 24 m2 outside terrace
Spacious living room with fireplace and TV
4 additional sitting rooms with TV
5 kitchens incl. Dishwashers
12 bedrooms, 8 bathrooms
Air conditioning
Free WiFi, TV with chromecast
Free parking
Price excl. discounts, cleaning costs and taxes:
From € 660,- p