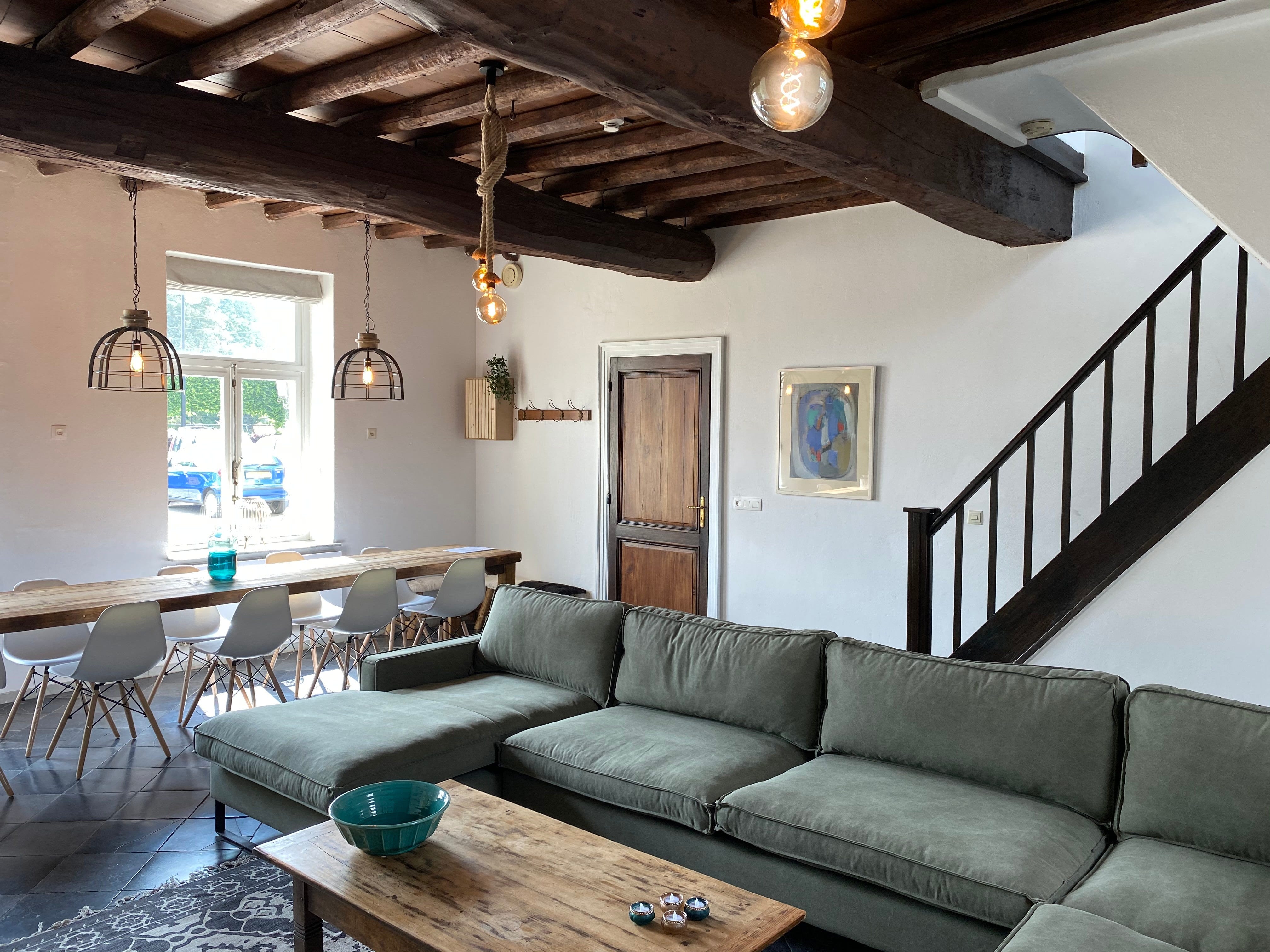 Authentic spacious maisonette for 6 persons near Maastricht
With a spacious living room (50 m2) with fireplace and large smart TV, luxury kitchen including dishwasher, Boretti stove and American fridge, 3 bedrooms, 2 bathrooms, outside terrace, air conditioning, WiFi and free parking.
This fully renovated authentic house from 1900 is located in picturesque Eijsden, 10 minutes from Maastricht: The ideal base for all the beauty, fun and activity that South Limburg and the Euregion have to offer. You can reach everything by train or car within 10 minutes to half an hour.
In Eijsden itself you can literally find everything within walking distance: From restaurants, cafes, picturesque streets, terraces, castles, beautiful nature, water fun, fun valley, to a complete shopping center.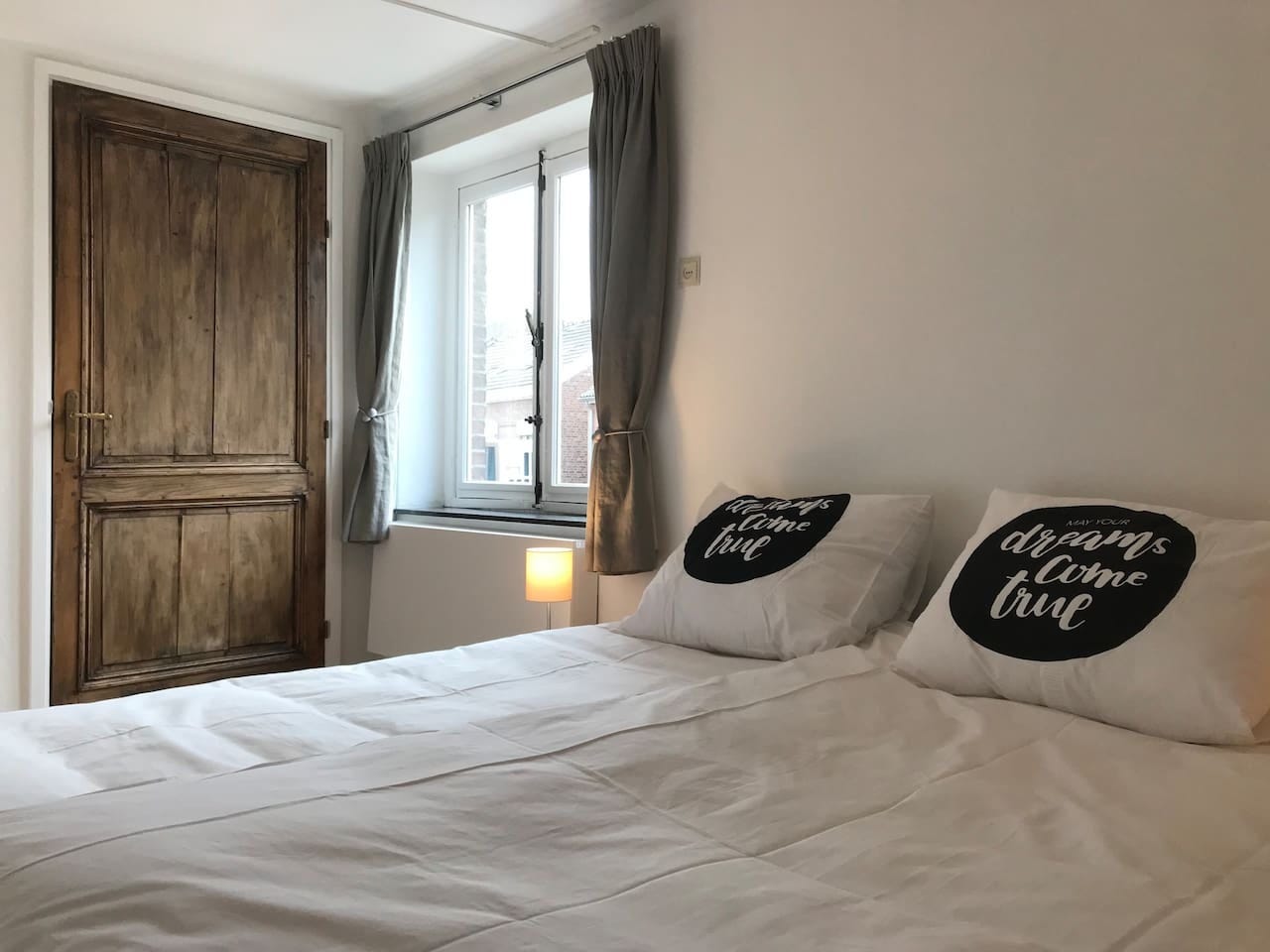 From € 145,- per night
Excluding cleaning fee and taxes
Features and location
109 m2 on ground floor + 1st floor
14 m2 outside terrace adjacent to kitchen
Many authentic elements
Spacious living room (50 m2) with fireplace
Large lounge sofa and antique dining table
Luxurious spacious kitchen incl. Dishwasher
3 bedrooms, each 2 persons
2 bathrooms, 1 with bath
Easily accessible by car and train
Ideal base for the region
Many amenities within walking distance
Facilities and amenities
Air conditioning and heating
Dishwasher
6-burner Boretti stove with oven
Fridge freezer and ice crusher
Oven-microwave-grill combi
Full kitchen inventory
Bed and bath linen
Blackout curtains
WiFi and smart TV with chromecast
Free parking in front of the door
Self-checkin with code
Prices, booking and cancellation
Sunday-Thursday: € 145 per night
Friday-Saturday: 15% weekend markup
Other discounts/markups: seasonal
Cleaning costs: € 55
Bed and bath linen: € 10
VAT: 9% above the above prices
Tourist tax: € 1.70 per night p.p.
Checkin: from 3:00 pm
Checkout: until 11:00 am
Payment: online, 50% down payment
Cancellation policy: click her
Riante woonkamer met open haard
Riante woonkamer met open haard
Riante woonkamer met open haard
Riante woonkamer met open haard
Riante woonkamer met open haard
Riante woonkamer met open haard
Mega koelkast met vriezer, water cooler en ice crusher
Slaapkamer 1 met authentieke wandkasten
Slaapkamer 2 met stapelbed
Slaapkamer 3 met dubbele wastafel
Voorgevel van de residentie
Ambiance
The property dates from around 1900 and has retained many authentic elements, while still enjoying all the contemporary luxury. That gives atmosphere, cosiness and comfort. Authentic elements can be found in every room, such as floors, ceilings and windows.
Layout
The house is large (111.3 m2 + 11.4 m2 outdoor terrace) and consists of a ground floor (living room, kitchen, toilet and outdoor terrace), a private staircase and a first floor, where 3 bedrooms and 2 bathrooms are located. The ground floor has very high spaces, which exudes a luxurious and authentic atmosphere. Below you can see the floor plans.
Floor plan of the ground floor
Floor plan of the first floor
Living room
Atmospheric spacious living room (50 m2) with large U-sofa, fireplace, large dining table with chairs, TV, authentic floors and ceilings.Through the original window in the original rear facade against which the kitchen is built, there is a connection to the kitchen, convenient for passing on food and crockery and cozy to keep in touch while cooking.
TV and WiFi
The TV is a large smart TV equipped with Netflix, Youtube and Chrome cast. The latter means that you can use your own smart phone as a remote control to see what you want with apps on the phone. E.g. the streaming service of your own TV provider at home, so you can watch all the channels you have at home. We have a strong Wifi.
Kitchen
Spacious kitchen (14 m2) also in an authentic atmosphere with natural light and door to the outside terrace. The kitchen has a 6-burner Boretti stove with large oven, mega fridge with freezer, water cooler and ice crusher, dishwasher, combi oven-microwave grill, plenty of cupboard space and long countertop. From the kitchen there is a direct connection to the living room and the outside terrace.
Outside terrace
From the kitchen you can reach the private outdoor terrace (11.4 m2), which also has a (lockable) back entrance to the street behind. On this terrace is a folding outdoor table with folding benches. Bicycles can also be placed here if you have them with you. However, these can also be placed in the designated bicycle sheds at the front of the residence. Make sure you have a strong lock on your bikes
Bedroom 1 (2p)
2-person bedroom (12.7 m2) with authentic spacious fitted wardrobes and beams. This bedroom has a Kingsize box spring bed with pocket spring mattress and integrated extra topper of 8 cm, which guarantees the best sleeping comfort. This bedroom is on the first floor of this house.
Bedroom 2 (2p)
2-person bedroom (5.3 m2) with bunk beds with sleeping places of 90x200 each, so suitable for adults in terms of size. The mattresses (also pocket spring mattress with integrated extra comfort topper) are also geared to this. This bedroom is on the first floor of this house.
Bedroom 3 (2p)
2-person bedroom (9.2 m2) with authentic beams and double washbasin. This bedroom has a queen-size box spring bed with pocket spring mattress and integrated comfort topper of 8 cm, which guarantees the best sleeping comfort. This bedroom is on the first floor of this house.
Bathroom 1
Luxurious and spacious bathroom (9.0 m2) with double washbasin with mirror cabinet and indirect lighting, walk-in shower, spacious bath and toilet behind a dividing wall. This bathroom is located on the first floor of this house, has a window at the front and is also characterized by authentic beams.
Bathroom 2
In addition to the main bathroom, there is an extra shower on the landing plus a double sink in 1 of the bedrooms, while the 2nd toilet is on the ground floor. That is why we are talking about 2 bathrooms. One of these 2 bathrooms (bathroom 2), however, has the facilities divided over one bedroom (double sink) and the landing (shower).
Heating and airconditioning
Each radiator can be individually controlled with a thermostatic valve. As a result, you only heat the rooms that you find necessary to heat and we do not consume unnecessary energy. There is also air conditioning on both floors that can be controlled with a remote control.
Smartlocks and checkin
We work with a self checkin system, which is the most flexible for both guests and us. You will receive the lock code by text and e-mail shortly before your arrival.
House rules
This is not a party location, it is a stylish authentic building from 1900 containing 5 different holiday apartments that have been furnished with care and an eye for detail, of which this accommodation is 1.
An authentic building creates a lot of atmosphere, but can also be noisy when guests cause noise pollution. Therefore, all guests are expected to be quiet after 10:00 PM and silent after 12 Midnight. This is all the more important when you sit together on the outside terrace or inside with the windows open.
Parties, smoking and pets are prohibited. Fines or extra costs may be charged for violating these or other house rules.
Surroundings and local transport
This accommodation is the ideal base for South Limburg and the Euregion. Everything you would want to see or do in the area can be reached by train or car within 10 minutes to half an hour. In Eijsden itself, everything you want on a holiday or trip can be found within walking distance. Get inspired with the photos below, or read more about the area here.
Genieten op het mooiste terras van Nederland, Aon 't Bat in Eijsden, bekeken vanaf België (overkant Maas)
Ontdek de Duivelsgrot in de St. Pietersberg in Maastricht
Bezoek de prachtige abdij van Valdieu en geniet van het heerlijke bier van de monniken
Wandel vanaf de St Pietersberg naar het Belgische Kanne en je komt van alles tegen ...
Kasteeldomein Alden Biezen (25 km)
Nationaal Park Hoge Kempen (30 km)
Karakteristiek Valkenburg
Industrieel erfgoed Maastricht stijlvol omgebouwd in horeca, cultuur en verblijfsgelegenheden
Vlakbij maar toch in het buitenland, de Voerstreek
Waan je in de prehistorie in de ENCI groeve in Maastricht
In de grotten van St Pietersberg in Maastricht
Het trappenfeest in het vlakbij gelegen Luik is echt bijzonder
Genieten op het Onze Lieve Vrouweplein in Maastricht
Lekker uitrusten bij Buitengoed Slavante op de St Pietersberg na een stevige wandeling
Speciale bieren proeverij in Luik
L' escaliers in Luik, een "must-walk"
Visé, op een steenworp van Eijsden maar Franstalig
Waan je in Frankrijk in de Koestraat, een van de gezelligste straatjes van Maastricht
Prachtige straatjes langs de oude stadswal van Maastricht
De Helpoort, oude stadswal en het Pesthuis van Maastricht
Pater Vink torentje in de stadswal van Maastricht
Stadspark grenzend aan de stadswal van Maastricht
Buitenbad van Zwembad de Treffer in Eijsden, met grote ligweide en 3 baden
Binnenbad van Zwembad de Treffer in Eijsden
Vakwerkboerderijtjes in Noorbeek, vlakbij Eijsden
Fort St Pieter op de St Pietersberg in Maastricht
Jachthaven Het Bassin in Maastricht, waar monumentale panden met industrieel erfgoed zijn omgebouwd tot horeca en cultuurgelegenheden
's Gravenvoeren, Franstalig, vlakbij Eijsden
Het 3 landenpunt Vaals met labyrint en mooie omgeving (30 km)
De Kazematten (ondergrondse schuilkelders) van Maastricht
In de grotten van Maastricht is een Nachtwacht nagemaakt
Pittoreske straatjes in Eijsden
Wandelen door natuurreservaat de Eijsder Beemden
Een topdag voor de kids? Funvalley in Oost-Maerland (Eijsden). Indoor en outdoor!
Langs de Maas in Eijsden kun je prachtige wandelingen maken
Bezoek het indrukwekkende oorlogskerkhof in Margraten (Gemeente Eijsden-Margraten)
Een must do: een dagje binnenstad Maastricht, blijft geweldig!
Het kleinste en meest Zuidelijke stationnetje van Nederland, Station Eijsden, aan de overkant
Dit beeldt de "Cramignon" dans uit, die tijdens de Broonk van Eijsden door de straten slingert
Drukte tijdens de Broonk, een jaarlijks 3-daags zomers feest in Eijsden
Wandelen langs de Maas in Eijsden met aan de overkant Franstalig België
Beschermd natuurgebied de Eijsder Beemden, je kunt er zo in vanaf het Bat in Eijsden
De voer kabbelt door het Eijsdense landschap
De voer stroomt langs Kasteel Eijsden
Kasteel Eijsden vanuit de lucht
Kasteel Eijsden tuin (openbaar)
Het Bat in Eijsden met rechts in de verte de St. Pietersberg van Maastricht
Wilde Konincks paarden in de Eijsder Beemden (openbaar)
Slenteren door de Diepstraat in Eijsden van boven naar de Maas beneden
Het winkelcentrum in Eijsden met alles wat je nodig hebt tijdens je verblijf... en meer
Grieks eten of aflhalen/bezorgen, het kan vlakbij hier bij Hestia
Terrassen bovenaan de Diepstraat
Het mooiste terras van Nederland, bij Oan t Bat aan de Maas in Eijsden
Location data
Adress: Stationsplein 6, Eijsden (NL)
Unit number: No. 6
Availability and booking: Click here.
Questions: Feel free to ask using this form:
Google Maps inhoud kan niet getoond worden met je huidige cookie-instellingen. Selecteer "Toestemmen & tonen" om de inhoud te zien en de Google Maps cookie-instellingen te accepteren. Meer info kun je lezen in onze [Privacyverklaring](/privacyverklaring/. Je kunt je altijd weer afmelden via je [cookie-instellingen] /cookie-instellingen/.
Toestemmen & tonen