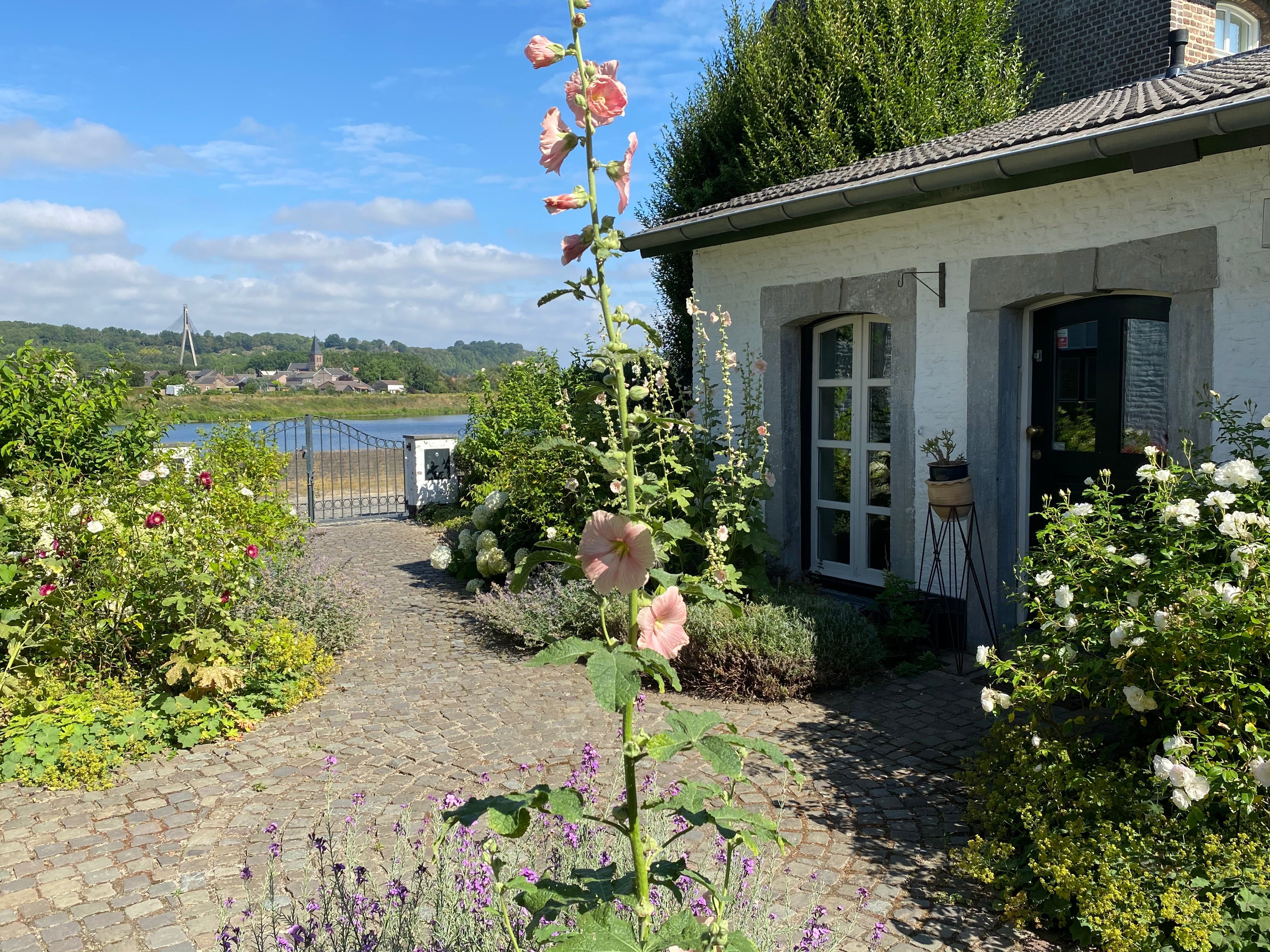 Idyllic little house at the river near Maastricht
Authentic holiday home from originally 1847, idyllically situated in the old town of picturesque Eijsden, with a view of the Maas, its nature reserve and the Sint Pietersberg. Restaurants, cafes and shops within walking distance. Bicycle and foot spring in front of the door. An ideal base for beautiful cycling and walking routes as well as visits to Maastricht, Liège and Aachen. Frequent train connections to these cities. Liège and Maastricht airports nearby. Suitable for couples, families with children and groups up to 4 persons. 50 m2 including mezzanine / sleeping loft.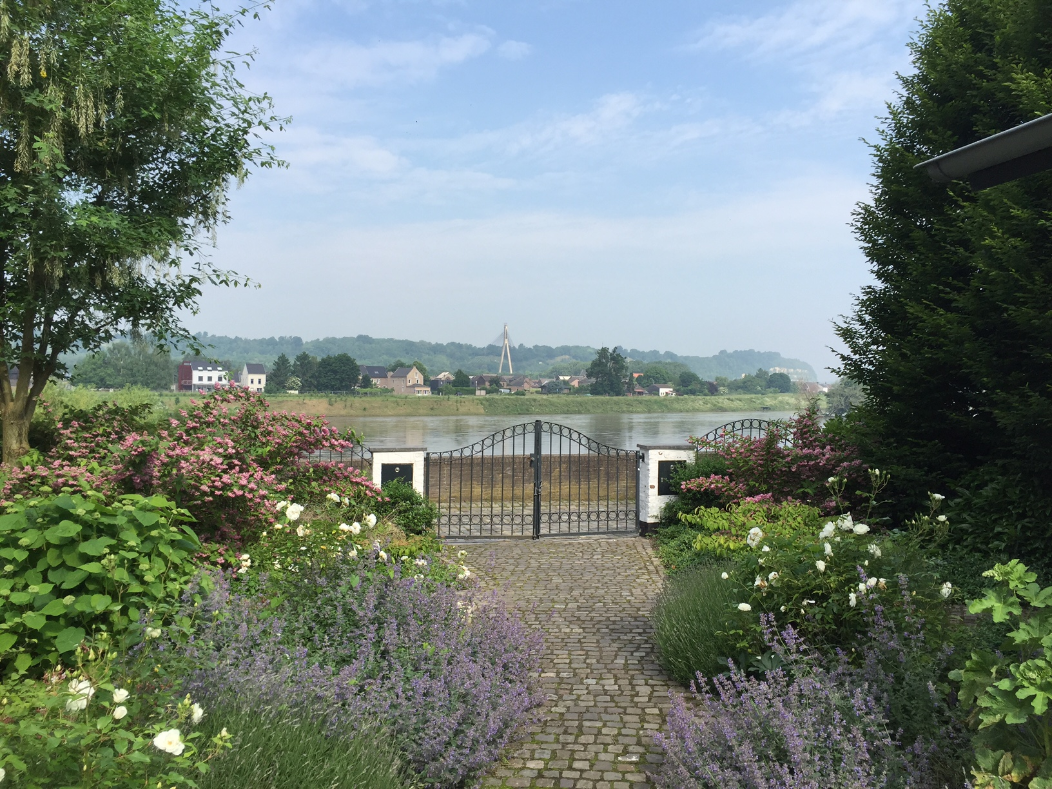 From € 110,- per night
Excluding cleaning fee and taxes
Features and location
Holiday home (4p) of 50 m2
Former coach house from 1847
With terrace on the river side
View of Maas and reserve
Very attractive living room
Kitchenette
1 sleeping area on the ground floor
1 sleeping area on mezzanine
1 bathroom
Ideal base for the region
Many amenities within walking distance
Facilities and amenities
Heating
2-burner electric hob
Oven-microwave-grill combi
Fridge with freezer
Full kitchen inventory
Bed and bath linen
Patio with a fantastic view
Patio furniture and umbrella
Free WiFi, TV via internet
Free parking nearby
Prices, booking and cancellation
Sunday-Thursday: € 110 per night
Friday-Saturday: 15% weekend markup
Weekly discount: 10% on night price
Cleaning costs: € 40
Bed and bath linen: € 10
VAT: 9% on the above prices
Tourist tax: € 1.70 per night p.p.
Checkin: from 3:00 pm
Checkout: until 11:00 am
Payment: online, 50% down payment
Cancellation policy: click here
Het terrasje aan de Maaszijde
Het huisje met terras aan de Maas zijde
Het huisje (links) tegenover het huis waar de eigenaar woont
Het uitzicht op de Maas, Belgie en de St Pietersberg
Het terrasje met elke avond zonsondergang
Zit hoek in de woonkamer van het huisje
Overzicht van de woonkamer
Doorkijk door schuifdeur slaapruimte 1 door schuifdeur
De entrolesol (slaapruimte 2) van onderaf gefotografeerd
De stijle trap/ladder naar de entresol
Bovenaan de ladder kijk je de entresol in
2-persoonsbed op de entresol
Het huisje van buiten met de Maas op de achtergrond
Natuurreservaat voor de deur
Ambiance
The house was formerly a coach house part of a monastery / retreat house from 1847, National Monument and Protected Village View. Inside, the house is equipped with marl paneling, high ceilings and some unique elements, such as the high panel doors behind which the extendable work table is hidden.
location and layout
The house includes mezzanine about 50 m2 plus a terrace of approx. 12 m2 and is located on the plot of the owner who lives in the main house opposite the coach house. The house has its own entrance and terrace on the Maas side, where you can watch the sun set. The terrace is located on the Maas side with a view of the Maas. The terrace can be reached through French doors from the living room of the house. The house itself consists of a living room with a sitting and dining area, a 2-person bedroom on the ground floor, a 2-person sleeping space in a mezzanine above this bedroom, accessible from the hall, a kitchenette and a bathroom. Atmosphere and authenticity are the key words of this house.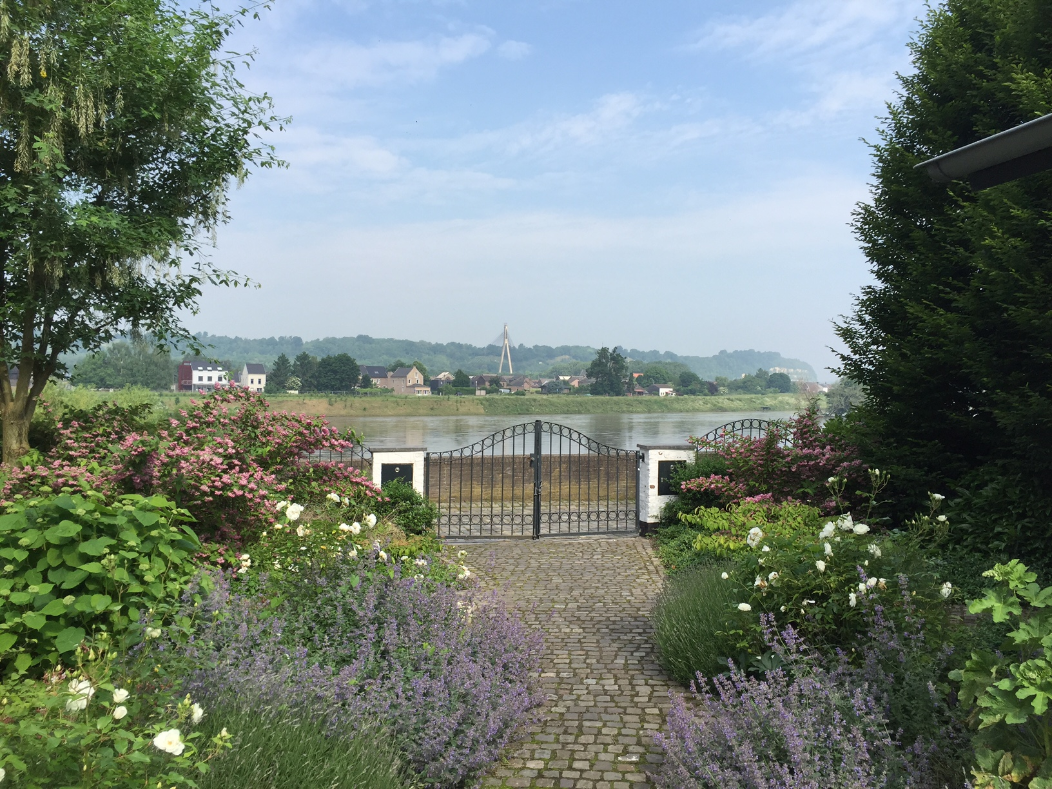 Living
You directly enter the living room (23 m2) where there is a sofa with 2 armchairs and a wooden dining table. By sliding open the high antique door panels you will find the TV which works with chromecast. On the sides of this closet are 2 more closets to hang clothes and coats. The living room leads through a sliding door to bedroom 1 and leads through the hallway (3.5 m2) to bedroom 2 (loft / mezzanine), the kitchenette and the bathroom.
TV and WiFi
The TV works with chromecast, so that you can simply watch the channels you have at home via your phone, Netflix, Youtube, or any other provider, if you only have the app from provider on your phone. So there is no cable TV, you use the apps on your own phone to watch TV via the chrome cast icon.
Bedroom 1 (2p)
2 people can sleep in the separate bedroom. There is a double bed (160cm x 200cm) plus 2 wardrobes and a chest of drawers in which clothes can be stored.
Bedroom 2 (2p) / mezzanine
This is not a separate bedroom, but a sleeping loft (275 cm x 300 cm) that is 275 cm high and can be reached via a steep staircase / ladder in the hallway from the living room to the kitchenette and bathroom. It is therefore not suitable for older people or small children. The ceiling above the loft is sloping and is 40 cm above the bed on the lowest side and 120 cm above the bed on the highest side.
It is large enough for 2 adults, but the ceiling height of the lowest part may pose a problem when boarding, especially for older people. See also the photos at this point. But once in the loft there is enough space to sleep with 2 people.
Bathroom
The bathroom is 3 m2 and contains the toilet, a shower and sink with hot and cold water. Towel cupboard with towels provided.
Kitchenette
This is a kitchenette with a refrigerator, a combi-microwave-oven-grill, 2-burner electric hob and sink with hot and cold water. There is a Nespresso coffee machine, a kettle, teapot, pans and there is crockery, cutlery, coffee cups, soda, beer and wine glasses for 4 people.
Note: this is a 2-burner kitchenette, not a real kitchen. Extensive cooking is therefore more difficult here. There are nice and affordable restaurants in the street and around the corner, also with fantastic views of the Maas.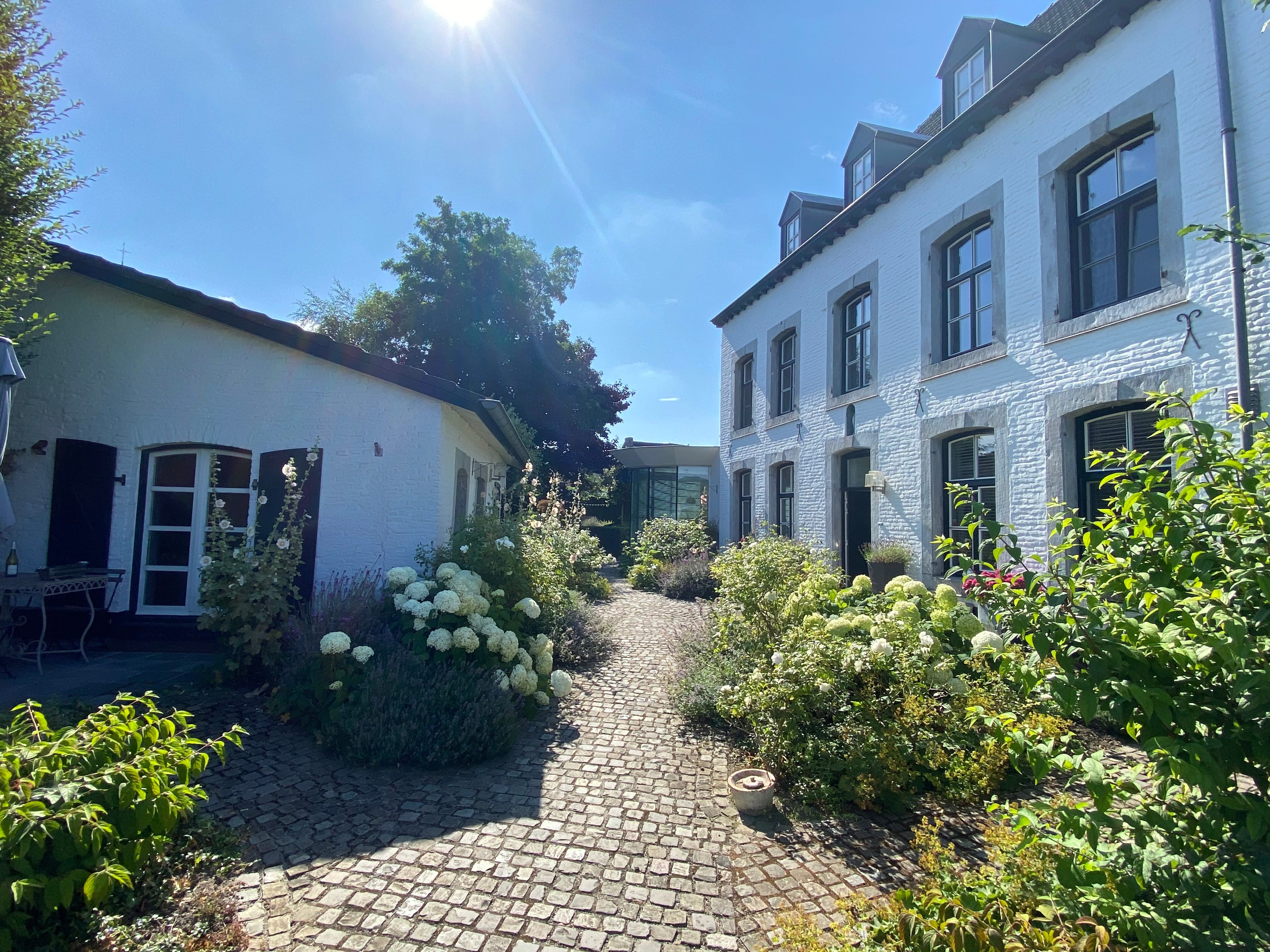 Privacy
The house is the former coach house belonging to the former monastery that is located at the same address (Bat 3). The owners live in the main building (former convent). Guests can use the terrace directly in front of the coach house on the Maas side, with a view of the Maas. The rest of the garden belongs to the owners and is not accessible.
Neighborhood
The house is located on Bat, the most beautiful street in Eijsden, which runs directly along the Maas and Eijsder Beemden. On the corner of that street is one of the nicest restaurants in the Netherlands with the most beautiful terrace. There are a few restaurants and cafes just around the corner. Eijsden Castle is a few minutes' walk away. In front of the door is the bicycle / foot ferry with which you can cross over to Belgium in the season.
Parking
Public parking de Vroenhof is free, almost always offers space and is around the corner, 1 minute walk. You can drive up to the house for loading / unloading suitcases, but the Vroenhof is the place for long-term parking. There is also a bus stop on the Vroenhof.
Local transport and surroundings
If you want to take the train to Maastricht or Liège, go to Station Eijsden. From the house it is a few minutes by car, about 10 minutes on foot. There is always enough free parking space at the station with 2 parking spaces (free). Trains to Maastricht and Liège run every hour, even in the evening. The station is about a 10-minute walk from the house. From Eijsden station you can easily and without parking problems at your destination take the following day trips to Maastricht, Liège and other great destinations in the region.
This accommodation is therefore the ideal location for South Limburg and the Euregion. You can reach everything by train or car within 10 minutes to half an hour. In Eijsden itself, everything you want on a holiday or trip can be found within walking distance. Get inspired with the photos below, or read more about the area here.
Genieten op het mooiste terras van Nederland, Aon 't Bat in Eijsden, bekeken vanaf België (overkant Maas)
Ontdek de Duivelsgrot in de St. Pietersberg in Maastricht
Bezoek de prachtige abdij van Valdieu en geniet van het heerlijke bier van de monniken
Wandel vanaf de St Pietersberg naar het Belgische Kanne en je komt van alles tegen ...
Kasteeldomein Alden Biezen (25 km)
Nationaal Park Hoge Kempen (30 km)
Karakteristiek Valkenburg
Industrieel erfgoed Maastricht stijlvol omgebouwd in horeca, cultuur en verblijfsgelegenheden
Vlakbij maar toch in het buitenland, de Voerstreek
Waan je in de prehistorie in de ENCI groeve in Maastricht
In de grotten van St Pietersberg in Maastricht
Het trappenfeest in het vlakbij gelegen Luik is echt bijzonder
Genieten op het Onze Lieve Vrouweplein in Maastricht
Lekker uitrusten bij Buitengoed Slavante op de St Pietersberg na een stevige wandeling
Speciale bieren proeverij in Luik
L' escaliers in Luik, een "must-walk"
Visé, op een steenworp van Eijsden maar Franstalig
Waan je in Frankrijk in de Koestraat, een van de gezelligste straatjes van Maastricht
Prachtige straatjes langs de oude stadswal van Maastricht
De Helpoort, oude stadswal en het Pesthuis van Maastricht
Pater Vink torentje in de stadswal van Maastricht
Stadspark grenzend aan de stadswal van Maastricht
Buitenbad van Zwembad de Treffer in Eijsden, met grote ligweide en 3 baden
Binnenbad van Zwembad de Treffer in Eijsden
Vakwerkboerderijtjes in Noorbeek, vlakbij Eijsden
Fort St Pieter op de St Pietersberg in Maastricht
Jachthaven Het Bassin in Maastricht, waar monumentale panden met industrieel erfgoed zijn omgebouwd tot horeca en cultuurgelegenheden
's Gravenvoeren, Franstalig, vlakbij Eijsden
Het 3 landenpunt Vaals met labyrint en mooie omgeving (30 km)
De Kazematten (ondergrondse schuilkelders) van Maastricht
In de grotten van Maastricht is een Nachtwacht nagemaakt
Pittoreske straatjes in Eijsden
Wandelen door natuurreservaat de Eijsder Beemden
Een topdag voor de kids? Funvalley in Oost-Maerland (Eijsden). Indoor en outdoor!
Langs de Maas in Eijsden kun je prachtige wandelingen maken
Bezoek het indrukwekkende oorlogskerkhof in Margraten (Gemeente Eijsden-Margraten)
Een must do: een dagje binnenstad Maastricht, blijft geweldig!
Het kleinste en meest Zuidelijke stationnetje van Nederland, Station Eijsden, aan de overkant
Dit beeldt de "Cramignon" dans uit, die tijdens de Broonk van Eijsden door de straten slingert
Drukte tijdens de Broonk, een jaarlijks 3-daags zomers feest in Eijsden
Wandelen langs de Maas in Eijsden met aan de overkant Franstalig België
Beschermd natuurgebied de Eijsder Beemden, je kunt er zo in vanaf het Bat in Eijsden
De voer kabbelt door het Eijsdense landschap
De voer stroomt langs Kasteel Eijsden
Kasteel Eijsden vanuit de lucht
Kasteel Eijsden tuin (openbaar)
Het Bat in Eijsden met rechts in de verte de St. Pietersberg van Maastricht
Wilde Konincks paarden in de Eijsder Beemden (openbaar)
Slenteren door de Diepstraat in Eijsden van boven naar de Maas beneden
Het winkelcentrum in Eijsden met alles wat je nodig hebt tijdens je verblijf... en meer
Grieks eten of aflhalen/bezorgen, het kan vlakbij hier bij Hestia
Terrassen bovenaan de Diepstraat
Het mooiste terras van Nederland, bij Oan t Bat aan de Maas in Eijsden
Location data
Adress: Bat 3, Eijsden (NL)
Unit number: Coach house Bat 3
Availability and booking: Click here
Questions: Feel free to ask using this form:
Google Maps inhoud kan niet getoond worden met je huidige cookie-instellingen. Selecteer "Toestemmen & tonen" om de inhoud te zien en de Google Maps cookie-instellingen te accepteren. Meer info kun je lezen in onze [Privacyverklaring](/privacyverklaring/. Je kunt je altijd weer afmelden via je [cookie-instellingen] /cookie-instellingen/.
Toestemmen & tonen