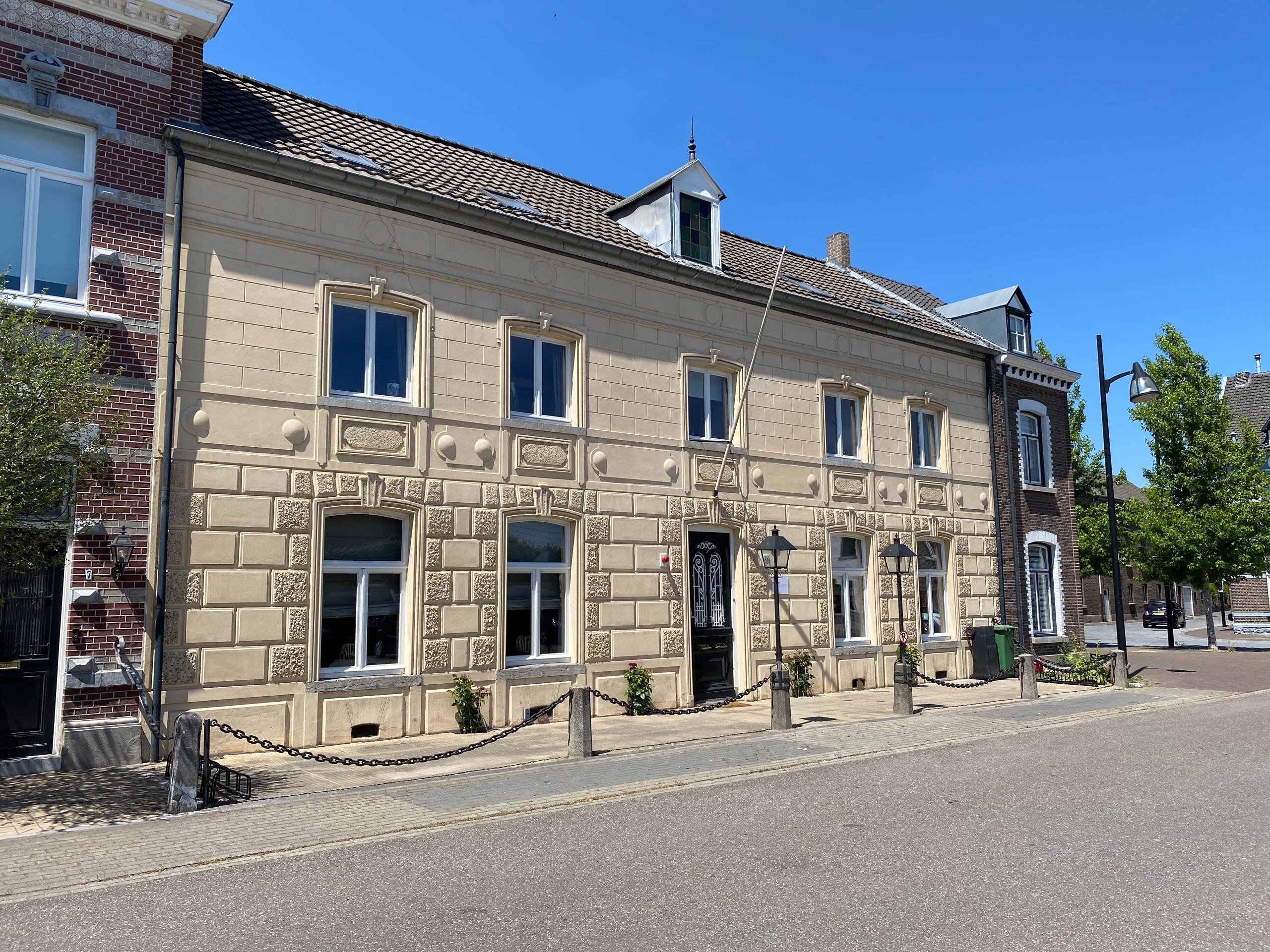 Exclusive authentic mansion for 16 persons near Maastricht
Authentic, luxurious group accommodation for 16 persons, with 8 bathrooms, 5 living rooms, 5 kitchens, 12 bedrooms, air conditioning, outside terrace, WiFi, 5 smart TVs and free parking.
This fully renovated authentic building from 1900 is located in picturesque Eijsden, 10 minutes from Maastricht: The ideal base for all the beauty, cosiness and activity that South Limburg and the Euregion has to offer.
In Eijsden itself everything can be found within walking distance: from restaurants, cafes, picturesque streets, terraces, castles, beautiful nature, water fun, fun valley, to a complete shopping center.
From € 660,- per night
Excluding cleaning costs and taxes
Features and location
Exclusive mansion with 3 floors
344 m2 incl. 23 m2 outdoor terrace
Many authentic elements
Spacious living room (50 m2) with fireplace
4 extra sitting rooms
5 kitchens incl. dishwashers
12 bedrooms, 8 bathrooms
Outside terrace with furniture
Easily accessible by car and train
Ideal base for the region
Everything you want within walking distance
Facilities and amenities
Air conditioning and heating
5 dishwashers, 1 Boretti stove (6-burner)
4 ceramic 4-burner hobs
5 refrigerators with freezer
5 Oven-microwave-grill combis
Full kitchen inventory
Bed and bath linen
Blackout curtains
Strong WiFi + 5 smart TVs with chromecast
Free parking in front of the door
Self-checkin with code
Prices, booking and cancellation
Sunday-Thursday: € 660 per night
Friday-Saturday: 15% weekendtoeslag
Other discounts/markups: seasonal
Cleaning costs: € 245
Bed and bath linen: € 50
VAT: 9% on the above prices
Tourist tax: € 1.35 per night p.p.
Checkin: from 3:00 pm
Checkout: until 11:00 am
Payment: online, 50% down payment
Cancellation policy: click here
Voorgevel van de residentie
Voorgevel van de residentie
Centrale hal en trappenhuis
Keuken 1 met raam naar living
Keuken 2 met doorkijk naar living 2
Keuken 2 met deur naar terras
Keuken 2 met deur naar slaapkamer 2
Badkamer 4 (ensuite van slaapkamer 2)
Badkamer 4 (ensuite van slaapkamer 2)
Badkamer 4 (ensuite van slaapkamer 2)
Badkamer 4 (ensuite van slaapkamer 2)
Buitenterras rechterhelft
Buitenterrassen met schuifdeur open zodat 1 terras ontstaat
Buitenterrassen met schuifdeur open zodat 1 terras ontstaat
Buitenterrassen met schuifdeur open zodat 1 terras ontstaat
Buitenterrassen met schuifdeur open zodat 1 terras ontstaat
Slaapkamer 5 / deel van badkamer 2
Slaapkamer 4 (de kleinste)
Living 3 met deuren naar slaapkamers en badkamer
Ingang slaapkamer 8 met badkamer ensuite
Slaapkamer 8 met badkamer ensuite
Badkamer 6 (ensuite van slaapkamer 8)
Badkamer 6 (ensuite van slaapkamer 8)
Badkamer 6 (ensuite van slaapkamer 80
Badkamer 6 met ensuite deur open naar slaapkamer 8